I apologise if the title sounds patronising, it isn't meant to be because I am no make up expert myself. I don't want this to be a tutorial as I'm not an expert at all, there are so many good guides on the internet these days so think of this as tips, rather than an expert opinion.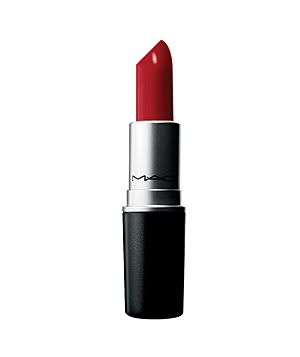 The universally popular Russian Red, by MAC
Finding the right red

I have heard of girls searching for years and years for that perfect red and still not getting there. Everyone has an idea of what their perfect red looks like, it's just finding it thats the problem.

The general rule is that cool/yellow toned girls should stick to blue toned reds. To get a balance is quite difficult as I find a lot of blue toned lipsticks in drugstores far too pink, but keep searching. As a yellow toned girl myself, I would recommend MAC's Russian Red and Ruby Woo for bright red lips, then Dubonnet and Viva Glam for darker vampy lips. Rimmel's Diva Red and GOSH's Lambada are also really good as bright reds.

Warm/peach toned girls should try warmer reds. I'm afraid I don't know much about these as I don't use them often, but think postbox red or tomato red. I know Collection 2000 in the UK do a red called Red Red which is tomatoey, Barry M also do one called Pillarbox Red, and MAC's Lady Bug and Lady Danger may also work.

Redheads/ginger haired girls should try more rustic or brick reds. MAC's Chili is nice and again, Dubonnet or Viva Glam would also possibly work here. My redhead friend who is not bright red, but a more subtle ginger used Bourjois' Rouge Allie #17 (from the discontinued Perfect Rouge range, still available from ebay) and it was perfect on her so it's worth a shot as it's a bargain!

Having said that, sometimes sticking to these guidelines means you may be missing out on that perfect red. Sometimes it just shouldn't work, but it does. Just try as much as you can in and check it in both natural and artificial light, take a photo, see how you feel.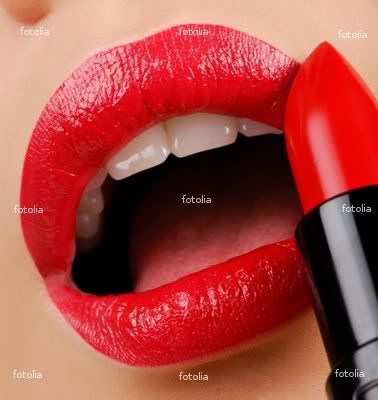 Applying your red lipstick

1) It is best to apply any foundation or powder first. Powder round your lips to form a dry base for the lip colour (Apply eye make up last, see later for why).

2) Apply a lipliner that is similar to your lipstick allover your lips. This is needed to stop the lipstick bleeding which is a common occurance with reds, and also because pencils are precise, meaning you don't have to be so careful with the lipstick later.

I own lots of reds but only have two lipliners: a bright cherry red one (Rimmel's 1000 kisses liner in Red Dynamite), and a darker brick red shade (MAC liner in Brick). This usually covers all bases.
Some people say you should get a lipliner that matches the colour of your lips but I disagree. This means your lipstick would have to be applied right to the edge of your lips to cover the lipliner, which makes it easier for the colour to bleed!

3) If you have a drying or matte lipstick (MAC's popular shades Russian Red and Ruby Woo are pretty drying), apply some lipbalm to the inside of your lips, taking care not to go too close to the edge of the lipliner.

4) Now you can apply your lovely red lipstick, taking care not to go over the lipliner's precise lines. Most pros use a lip brush, but I find this too time consuming so what I do is dab the lipstick on lightly, purse lips to even the colour, then apply more until the desired shade.

5) Now you can do your eyes. The reason I think it's a good idea to do your eye make up last is because if you did it first then applied the lipstick last, your eyes may be overdone and look too much with your stand-out lips. It's much easier to do eyes last so you can gradually build them up until you feel happy at the balance, without looking like a clown.

Most people say that if you do wear red lips, you have to tone down your eyes. I don't think this is always the case because goth was a popular look in Winter '08 which saw dark red lips teamed with dark smokey eyes. Some girls suit this look, but then some don't. It's best to test out different eye products with your red lips one day you have time, play around, see what suits you.

If strong eyes and strong lips DON'T suit you, I would suggest use a pale gold eyeshadow (my fave is Barry M's pink/gold #3 dazzle dust) and then a thick line of black liquid liner on your top lashes, flicking them out at the outer corner of your eye. Add mascara or false black lashes and hey presto, a timeless classic red lips look!
Pillarbox Red lipstick by Barry M, add matching red nails for instant glamour!




My recommended products
If you are wanting to read some reviews on any of the products mentioned, visit www.makeupalley.com as it has an extensive review database from thousands of users across the world. They also have a swap section where you may be able to get hold of rare items and get rid of things that haven't worked out for you.

Apart from the above mentioned products, my personal favourites are listed below. For reference, I am a NC25/NC27 in MAC's foundations, powders and concealers and have light-medium yellow toned asian skin. I couldn't tell you if these would suit you as well as me so I suggest you test them out in store wherever possible.
(* = limited edition/discontinued)

- MAC Viva Glam matte lipstick (deep brick blue-red)
- MAC Port Red frost lipstick* (deep metallic blue-red)
- MAC Russian Red matte lipstick (bright blue-red)
- MAC Dare You cremesheen lipstick (deep red brown, great w. goth/smokey eyes)
- MAC Cult of Cherry lipglass* (bright blue-red, looks great over Viva Glam)
- MAC Brick lip liner (brick red, perfect under Viva Glam)

- NARS Cruella velvet lip pencil (deep scarlet red)
- NARS Shanghai Express lipstick (dark/deep brick red)
- GOSH Lambada lipstick (bright neutral red)
- Rimmel Dynamite Red 1000 Kisses lipliner (cherry red, good under Russian Red/Ruby Woo)


Where to buy


Anna Sui products are available worldwide on annasui.com. Store list can be found here.
Barry M is available from Boots/Superdrug in the UK and barrym.com worldwide.
Besame can be found at besamecosmetics.com worldwide.
Bourjois is in Boots, Superdrug and Debenhams stores in the UK. It is widely available in Europe and from Ulta in the US.
Collection 2000 can be bought in the UK from Boots or Superdrug.
GOSH is available in Superdrug stores in the UK, and on goshamericas.com in the US.
L'oreal can be found in most good department/drug stores worldwide, especially in the US and UK.
Lola Cosmetics are available in the US at Sephora, Sephora.com, and makeup.com.
MAC is available from MAC stores and on maccosmetics.com.
Maybelline can be found in most good department/drug stores worldwide, especially in the US and UK.
NARS is available in the UK from narscosmetics.co.uk and hqhair.com, Sephora in the US, and sephora.com worldwide.
NYC (New York Color) is available in UK Superdrug stores and in good drugstores in the US.
Pout has unfortunately been discontinued but many items are on Ebay.co.uk for bargain prices.
Revlon can be found in most good department/drug stores worldwide, especially in the US and UK.
Rimmel is available in the UK from Boots and Superdrug, and Ulta in the US.
* Products marked with a star are discontinued or limited edition items that are no longer available. You may be able to find these on Ebay occasionally, or if you are on a swap site like makeupalley.com you may be in with some luck there.