(L-R: Rimmel Diva Red, GOSH Lambada, Collection 2000 Red Red)
Now, to prevent me from looking like I am advertising for MAC, I will now do 3 lipsticks that you can get for under £10 GBP on the British High street. The problem is, MAC are just so famous for their range of reds so I will continue reviewing their items later, but today I will go affordable. We are in the midst of a reccession afterall.
~

First, I will start with
Rimmel's Diva Red
. It is a moisturising lipstick and I believe it has been repackaged in a shiny purple tube. I have the previous version which is in a way less impressive and more cheap looking pink tube, but the colour will be the same. This is either the first or second red I bought, before I started on the more high-end brands.
It is definitely a blue toned red and certainly not a tamed one, if you wear this you will definitely stand out so I wouldn't reccomend it to those why are a little shy. It does have a hint of pink in it so may turn fuschia on those with darker skin, so beware.
It isn't drying due to the formula but can wear off easily. This is one of the reason I prefer mattes, apart from the fact I don't like glossy lips. It is slightly glossy but not too much, but my main gripe with it is the colour looks a bit cheap on me. If you are after an affordable red though, I would give this a go as the pigmentation is very good for the price (about £5-6).
~
Next, we come to
Collection 2000's Red Red
lipstick, which is a tomato red. I don't really suit it as I have yellow undertones which makes it look too orange, but if you are warm skinned you should give it a try. The pigmentation isn't as good as Rimmel but if you prefer a slightly less bold blue-red, you can't go wrong as I think it costs about £2-3.
~
And leaving the best til last in my opinion, it is
GOSH velvet touch lipstick in Lambada
. I think this lipstick is underated, whenever I see discussions on perfect reds I never see this one mentioned. It is fairly neutral but very bright, without being too blue like Rimmel Diva Red, or too orange like Collection 2000 Red Red.
It goes on very pigmented without drying your lips, it is a little bit shiny but it feels lovely on and looks spectacular. I think this would suit girls of a lot of skin tones, though test it out, don't just take my word for it. It is incredibly afffordable, at £6-7 but with quality that rivals MAC. The packaging in quite sleek like MAC's too so if you are looking for a cheap Russian Red duplicate, it's worth giving this one a go.

~

Conclusion
- My overall favourite is GOSH Lambada, which is one of my favourite reds. It's affordable but looks expensive, whereas the other two look a bit cheap on my lips. Do try them out though, but I think Lambada has the ability to looks great on more girls and if more people hear about this, the more it will come out from under it's rock.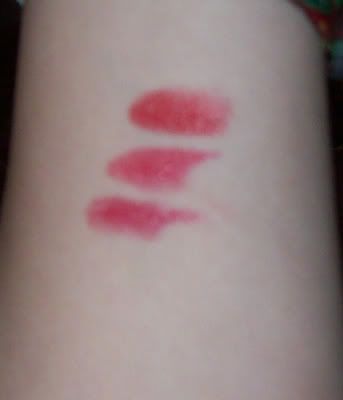 (Top to bottom: Collection 2000 Red Red,
GOSH Lambada,
Rimmel Diva Red
)
All three lipsticks are available from Superdrug in the UK, Collection 2000 and Rimmel are also stocked in Boots too. For overseas customers, Rimmel is available from Sephora and I think GOSH is more widely available in Canada than the US, but I'm not sure. Collection 2000 is a UK budget brand so probably only available in the UK, but you could always try ebay.co.uk as some sellers ship to other countries.