My first two reviews are of two darker reds:
MAC Dubonnet and Viva Glam 1
.
These aren't really THAT dark at all, but not your retro bright reds. However, these are retro in another way in that they exude a more sophisticated and glam feeling than brighter reds do.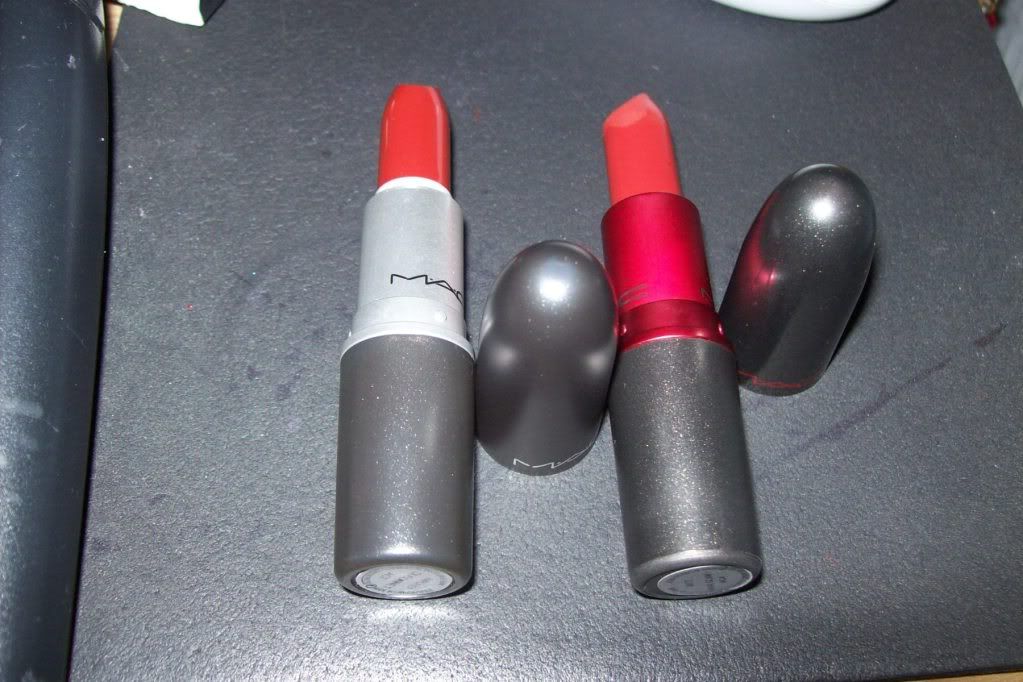 (L-R Dubonnet, Viva Glam. Please note: the flash on my camera makes them look a brighter red than they are, please see pic of Dubonnet below for slightly more accurate colour portrayal.)
~
I'm going to start with
Viva Glam,
which I admit is my favourite red. On me it is a bright red with a hint of brick, but a bit more toned down than postbox red. I think it would look better on cool/yellow toned girls as I can see it turning too brick on a warm toned girl with peachy skin.
I love the look of matte lipsticks, which Viva Glam is. Mattes can be drying, but a little bit of lipbalm underneath helps keep your lips moist and makes application much easier.
~
Dubonnet
is one of those hyped up MAC reds, alongside Russian Red, so I caved in and this was the second MAC lippie I purchased. However, when I applied it, it just looked a little bit too brick on me. I don't know why because swatched next to Viva Glam, they look identical.
Maybe it's because it's not a matte shade, maybe the slightly shiny texture just doesn't suit me. I'm not sure as it puzzles me so much that the two lipsticks are more or less identical in colour when swatched, and Dubonnet actually looks redder in the tube, yet Viva Glam just looks more red on my lips.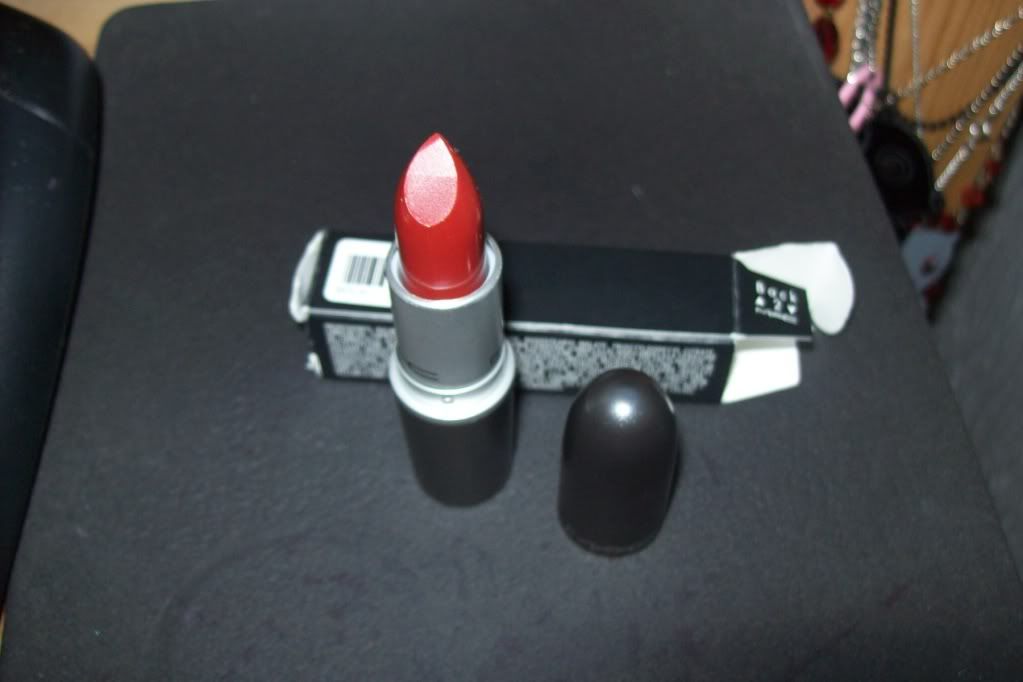 (MAC Dubonnet. A fairly accurate portrayal of it's colour in this pic, Viva Glam is similar but less shiny)
~
Conclusion -
Don't let my review put you off Dubonnet though, as the reason it is hyped is because it works for many people. I am unfortunately not one of those people but you MIGHT be, therefore I suggest you try both out at a MAC store.
Put one shade on one half of your lips and the other on the remaining half and compare in different light, take a photo if you can so you can take your time to compare and find your favourite.
If they do look the same colour on you though, pick the finish you prefer. If you don't like dry or matte finishes, get Dubonnet. If you prefer mattes and don't mind finding ways to combat dryness, get Viva Glam.
Myself, as a Viva Glam girl, the added bonus is all the money goes to an AIDS charity so you are spending your money to be stylish AND to help others.